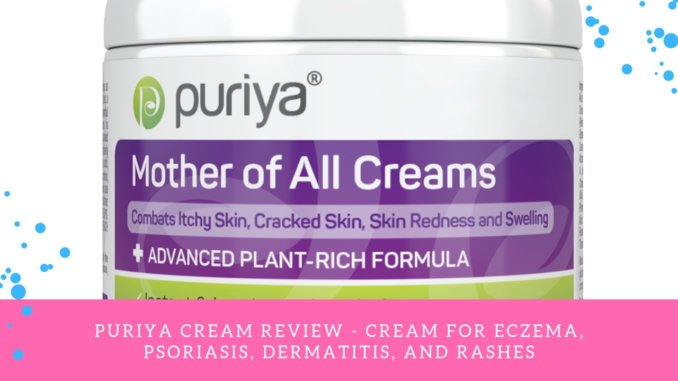 Puriya Cream Review – Cream for Eczema, Psoriasis, Dermatitis, and Rashes
Puriya's Mother of All Creams is designed to treat many different skin conditions so it has some ingredients that may or may not have an effect on psoriasis. The upside is that it's very versatile and is a great all-around skin cream.
Puriya Mother of All Creams
Pros
Works on a wide array of rashes and skin diseases.
Minimizes itching and dryness right away
Cost effective alternative to other creams.
Absorbs quickly and doesn't leave a greasy residue like many other over the counter psoriasis creams.
Cons
Takes 6-8 weeks of use for full results.
Sometimes makes other skin symptoms worse.
Puriya Cream contains the following ingredients:
Purified Water, Organic Aloe Vera, High Oleic Safflower Oil, Shea Nut Butter (Raw), Shea Nut Butter (Refined), Avocado Oil, Vegetable Glycerin, Behentrimonium Methosulfate, Cetearyl Alcohol, Amaranth Oil, Cetyl Alcohol (Plant Derived), Jojoba Oil, Honey, A blend of Lavender, Peppermint, Chamomile and Tangerine Essential Oils, MSM, Vitamin E Oil, Vitamin A, Phenoxyethanol Caprylyl Glycol, Citric Acid, Carrot Seed Oil, Vitamin C, Rosemary Extract, Potassium Sorbate, Titanium Dioxide, Hexylene Glyc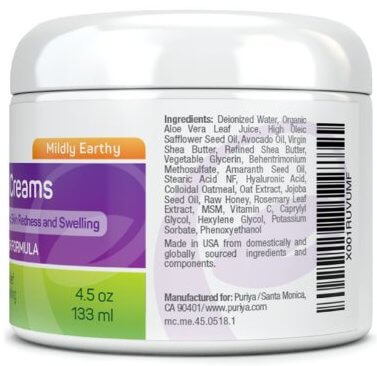 The Feel of Puriya's Mother of All Creams
When you first apply Puriya's Mother of All Creams is feels light and moisturizing. It's as if your spreading a dozen essential oils on your skin at once…because you are!
As the cream absorbs into your skin, you can feel it moisturizing your skin and making it smoother and supple. It also quickly changes the appearance of the skin making it look much less dry and cracked.
The lightness of the cream also allows you to use very little cream to cover a large area. This makes the cream last for a long time.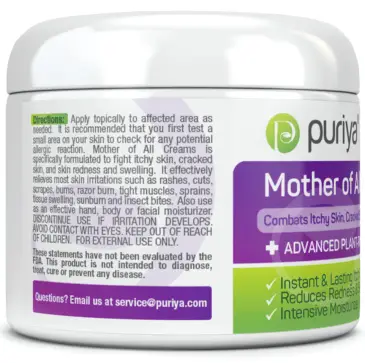 Pros
One jar lasts a long time due to the consistency of the cream.
The Mother of All Creams treats a wide variety of skin issues beyond psoriasis and can be used on the scalp.
Pretty much anyone can benefit from this cream as it's great on any dry or cracked skin but also treats skin irritations, cuts, scrapes, burns, rashes, razor burn, muscle aches and pains, sprains, tissue swelling, sunburn, and insect bites
Has a light soothing peppermint smell.
The company backs its product with a full money back 180-day guarantee.
Cons
There really aren't a lot of cons with Puriya's Mother of All Creams.
I did find that other creams specifically designed to treat psoriasis sometimes worked better. Those creams didn't work as well on other things so it's really a toss-up.
Conclusion
If you're looking for a great all around cream for a wide variety of skin issues then you probably don't need to look any further than Puriya's Mother of All Creams.
If you want the very best psoriasis cream this may not be exactly what you're looking for. Other specialty psoriasis creams will probably work better than Puriya Cream for psoriasis. That isn't meant to take away from Puriya's Cream at all. This is really a great product, but since I'm looking at it from a psoriasis standpoint, it doesn't stack up to some other creams in that department.
Did this Puriya Cream review help you? Please let us know in the comments section!