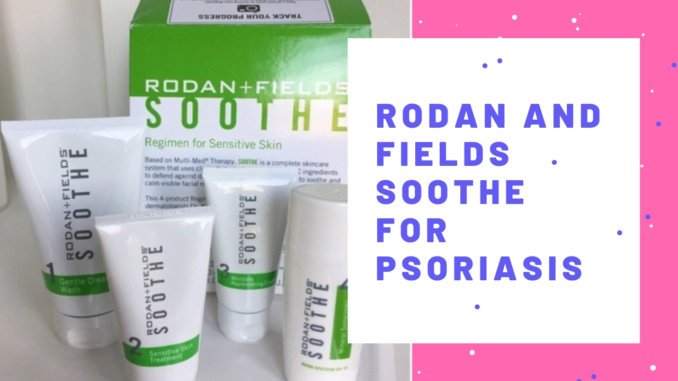 Rodan and Fields Soothe
The Rodan and Fields Soothe collection is meant for sensitive, irritated skin as well as facial redness. These are all issues that people with Psoriasis can relate to, but is this expensive brand-name skin treatment worth it? Rodan and Fields is a mainstay in the health and beauty market, and the manufacturer even has an affiliate program that models the multi-level marketing scheme.
The skincare company was founded by the creators of Proactiv, an award-winning acne solution. It's not unusual to find friends, family, or co-workers praising the positive effects of both the Proactiv and Rodan and Fields product lines.
Yet, does this skin treatment stand up to all the hype? More importantly, can it provide a true solution for those struggling with Psoriasis on a daily basis? It's time for a closer look.
The Soothe Regimen
Rodan and Fields' Soothe regimen is meant to help individuals who suffer from facial redness and skin that is dry and irritated, so it sounds like it might be a good fit for people with Psoriasis. This regimen actually contains four items, and each bottle is marked with a number to specify its place in the skin regimen.
Step one is to use the gentle cream wash, which contains three different ceramides that protect the skin and build a protective layer around it to keep it healthy. The body naturally contains ceramides, but age, pollution, sun damage, and other factors can deplete the skin of these lipids. The Rodan and Fields package contains ceramides NP, EOP, and AP.
The next step in the regimen is to apply a thin layer of sensitive skin treatment. Its active ingredients include allantoin and dimethicone. Allantoin is a component that a lot of dermatologists are playing around with, exploring its moisturization benefits.
Allantoin presents a more natural solution to the harsh chemicals that some people use to treat dry, flaky skin. The substance is said to promote healthy skin development, something that would greatly benefit those suffering from Psoriasis.
As for dimethicone, this is an emollient that many professionals use to hydrate the skin as well as soften and smooth the epidermis. This would prove to be very useful for Psoriasis on the elbows and knees, two common areas for flare-ups. Dimethicone is also used to treat diaper rash and some types of burns, so it's a versatile substance.
Steps 3 and 4
The latter half of the Rodan and Fields Soothe regimen involves using a moisture replenishing cream. This product contains glycerin and grape seed oil to nourish thirsty skin and relive some of that itching and dryness that comes with Psoriasis. There is also urea in the moisturizing cream, and this substance works both to exfoliate the skin and hydrate it.
This is a double-header that can greatly improve skin disorders like Psoriasis by sloughing off dead skin cells and nourishing the skin underneath.
The final step in the skin care regimen is to apply Rodan and Fields' mineral sunscreen. It's a broad spectrum SPF 30 formula that contains the active ingredients titanium dioxide and zinc oxide.
Titanium dioxide is a primary component of many sunscreens because it blocks UV rays before they can damage the top layer of the epidermis. Zinc oxide is another popular ingredient in many sunscreens, as it provides broad-spectrum protection from the sun's UV rays.
Zinc is a mineral that helps with healing wounds and burns, and it has been used for centuries as a natural healing agent. Not only does the zinc oxide in the Soothe regimen help protect from the sun's rays, but it treats inflammation and redness, too.
Worth the Price?
People who are familiar with Rodan and Fields know that their products come at a price. The only way to get them is through an R+F distributor, although some of these individuals will sell their items on sites like Amazon or eBay.
Still, the Soothe regimen falls in the range of $180 for the complete set. While the collection isn't reserved for people with Psoriasis, the ingredients in the products are identical or similar to the ones that dermatologists recommend to patients.
Rodan and Fields was created by two dermatologists, so it makes sense that the ingredients are similar to those recommended. Overall, works great if you're willing to pay the price.