UV Light Treatment for Psoriasis
UV light treatment has been helping people get rid of their psoriasis for a very long time. Sunlight is the original psoriasis treatment and is still one of the most effective ways to treat this autoimmune disease.
is one of the best ways to treat psoriasis.
What is UV Light Treatment for Psoriasis?
UV light treatment (also known as phototherapy) is done by simply exposing the part of your skin affected by psoriasis to ultraviolet light. The process is done over and over until the psoriasis clears up.

UV light treatment has actually been shown to be very effective in treating a wide range of inflammatory skin conditions like eczema and vitiligo, on top of psoriasis.
Phototherapy is the treatment that many dermatologists prefer over other methods. Despite this fact, it still isn't widely used because home UV light treatment can be expensive and sometimes isn't understood by patients.
How Does UV Light Treatment Get Rid of Psoriasis?
Psoriasis is caused by an abnormal reaction between immune cells and normal skin cells. Applying UV light to the area can kill those immune cells or disrupt the abnormal interaction between immune cells and skin cells.
By disrupting the abnormal interaction between the cells, UV light treatment reverses the inflammation of the area and allows for normal healing.
Where is UV Light Treatment Done?
In the past, UV light treatment has normally been done in a doctor's office and usually involved stand-up, full body length lamps to treat the area. This has the side effect of exposing the entire body to UV light instead of just the area that you need to target and it doesn't on areas that are covered, like psoriasis on the scalp.
Today's UV light treatment is moving from the doctor's office to the home. This allows patients to treat themselves in privacy, makes it less expensive because they don't have to pay for a doctor's visit every time they go for treatment, and allows them to fit it into their already busy schedules.
Home treatment is also great for anyone with mobility issues or transportation problems.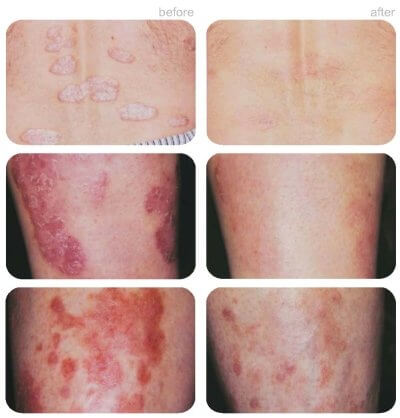 Types of UV Light Treatment
UV light treatment comes in three forms with Narrow Band Ultraviolet B Light (NB-UVB) being the most common these days. NB-UVB systems try to produce a narrow band of light only in the ranges that are effective in treating psoriasis.
NB-UVB is also preferred because it causes side effects in fewer people, is easier to use, and has a wider range of uses in treating skin conditions.
How Effective is UV Light Treatment for Psoriasis?
UV light treatment has been very effective in a wide range of patients. Studies show that 60-75% of people that try phototherapy achieve at least a 75% improvement in around 20 sessions! This success rate has led to quite a few hand held NB-UVB units being made for home use.
These handheld units are great for treating scalp psoriasis as well as other areas of the body.
Excimer laser treatment is another light therapy that is showing a lot of promise. It's basically a high energy NB-UVB laser that can be very effective in treating areas with heavy plaques.
Since these areas need more light to effectively treat than other areas the laser is able to use more energy in these areas to get rid of psoriasis. The downside is that it isn't very effective over large areas of the body.
Remission from laser treatment is generally longer than with NB-UVB treatment but cannot be done at home.
Can You Use Tanning Beds for Psoriasis Treatment?
Tanning beds often produce carcinogenic light and the power and frequency of commercial tanning beds vary wildly. If you want to try UV light therapy it is suggested that you only use a device designed for the task and only after consulting a physician.
Does Normal Sunlight Help?
Regular sunlight has been used for centuries to treat psoriasis and other skin conditions. Some people suggest using a sunblock on unaffected areas then covering the affected areas about 10 or 15 minutes after you've been in the sun.
You just have to be careful since sunburn can actually have the opposite effect on psoriasis and actually make it worse. Short exposure times are key.
Make sure you talk to your doctor before you decide to try sun exposure just to make sure it's right for you.
Conclusion
UV light treatment for psoriasis is quickly gaining traction as modern home UVB lamps become less expensive than they have been in past. In fact, a modern UVB lamp suitable for home treatment is actually much less expensive than a full course of biologics.
You can find some home UV lights over on Amazon.
"A short course in topical psoriasis agents" https://www.clinicaladvisor.com/features/a-short-course-in-topical-psoriasis-agents/article/118026/ written by Dr. Doris Day, M.D.