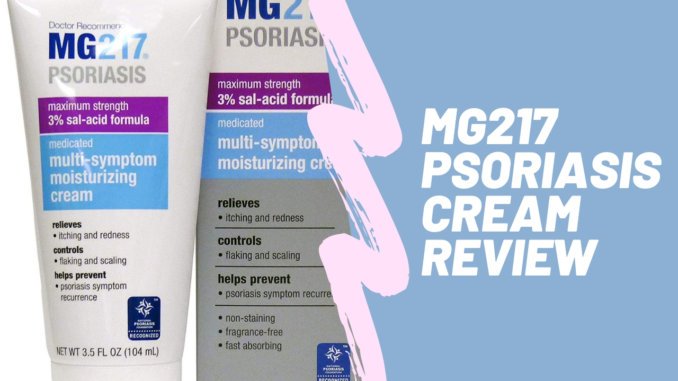 MG217 Psoriasis Cream Review
For those dealing with psoriasis, every day can be a huge question mark. They just don't know how their skin will behave on any particular day, so they're always worried about a flare-up. The dry, scaly patches of skin are hard to look at and can lead to low self-esteem and body image.
Moreover, this skin disorder leaves the body feeling itchy and uncomfortable. Without proper treatment, it can be almost unbearable. Can help to alleviate these problems?
MG217 Psoriasis Cream
Pros
Recommended by the National Psoriasis Foundation.
Has a wide range of ingredients to counter psoriasis symptoms.
Inexpensive.
Cons
Not recommend for use on the face or scalp.
Some people feel that the scent is too strong or sweet smelling.
Common Psoriasis Problems
People with psoriasis have a whole slew of things to deal with that the average person never even considers. This skin condition can cause flare-ups all over the body. Some individuals have it worse on their elbows and knees, while others might get a flare-up on their scalp or back.
Psoriasis is a skin disorder that is very individual to the particular person, so the issue that one might face could be different from another person.
Moreover, one solution might work for some, but not for others. In fact, finding the right cream or medication can be a tireless journey into all sorts of remedies. It can take hundreds of dollars and multiple years to find the stuff that works best.
All that being said, people with Psoriasis can relate to the itchy, flaky feeling of the skin. Red patches with silvery lines invade the body and can lead to varying levels of discomfort. Not only that, but this skin disorder can cause unsightly lumps and patches of skin that most folks would rather keep covered up.
It's not uncommon for psoriasis sufferers to hide behind long sleeves and pants, even in the hot summer months. They're just too embarrassed or ashamed of the quality of their skin.
It doesn't have to be that way though. While it can take time to find the ideal solution for each individual, this review of MG217 Psoriasis Cream can help folks determine if this ointment is the right one for them.
How Does MG217 Psoriasis Cream Compare?
First of all, the MG217 Psoriasis Cream contains 3% Salicylic Acid, which is similar to other psoriasis ointments on the market.
The MG217 company focuses on skin disorders, such as eczema and psoriasis. In fact, they have a line of products exclusively for those with psoriasis. This includes shampoos, conditioners, scalp treatments, soaps, and ointments. This medicated Salicylic Acid cream contains aloe, bisabolol, and shea butter to soothe, heal, and protect dry, flaky skin.
The aloe works as a natural burn reliever, helping to ease flare-ups and associated pain. Bisabolol is said to have anti-inflammatory, anti-irritant, and anti-microbial properties, which is ideal for those suffering from psoriasis. Shea butter is in many skin creams and lotions because it's a wonderful natural moisturizer.
The MG217 formula also contains avocado oil to help bring moisture to dry patches of skin, as well as Oregon-grape root extract, which is recognized in natural health circles as a remedy for psoriasis. Its antibacterial and anti-inflammatory properties make it a great choice for those struggling with plaque psoriasis. The Vitamin B5 (Pantothenic Acid) in the MG21 formula works to keep skin healthy.
The 3% Salicylic Acid in the cream is recommended by doctors and dermatologists and works to exfoliate dry psoriasis patches. It assists in softening the extra layers of skin that have built up, making them peel or fall away from the body. This, combined with the other ingredients, can work to reveal healthier and more attractive skin.
This cream is nonstick and applies rather easily to all body parts, even the scalp. It is fragrance-free and can relieve itching, a common issue for those with psoriasis. The package instructions advise users to avoid applying the cream to the face, but several customers have reported that the ointment works on their facial psoriasis as well. The risk here is the potency of the Salicylic Acid, which shouldn't go near the eyes or mouth.
Things to Consider
Of course, when using any medicated cream, it's important to use it as directed. If users want to try it on their face, they should probably run this by their doctor or dermatologist beforehand.
It's best to try any new product on a small sample area of the skin prior to committing to putting it all over the body. In addition, the Salicylic Acid can cause some tingling, but it shouldn't be a painful feeling.
All of these precautions aside, the MG217 Psoriasis Cream has overwhelmingly positive reviews and has been named as Amazon's Choice product. It's an affordable option that may save lots of psoriasis sufferers money while providing relief.