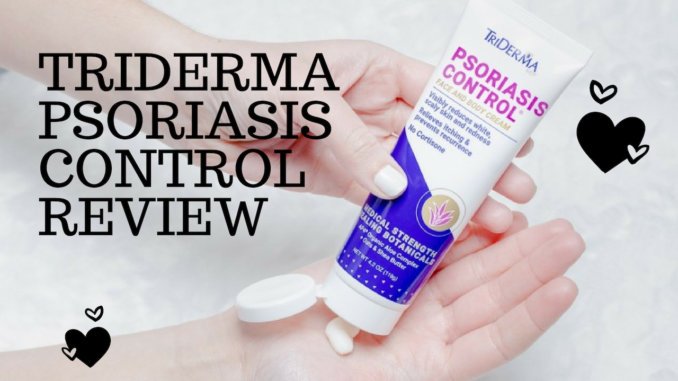 TriDerma Psoriasis Control
Psoriasis may not have a known, definitive cause, but there are products out there that can treat the dry, itchy, red scales that sufferers deal with. TriDerma is a skincare company that bases its products on natural botanical solutions.
Their cream is for the face and body and is free of harmful additives and chemicals that can make flare-ups worse.
TriDerma prides itself on botanical-based skin healing, so this product is ideal for people who want something on the natural side that is free of cortisone and parabens. Plus, TriDerma products are cruelty-free, so it's something that vegans can feel good about using.
TriDerma Psoriasis Control Cream
Pros
Works great for removing scales.
Stops any itching within just a day or two.
Some have found it works well on scalp psoriasis as well.
Non-greasy when applied to the skin.
Cons
Redness of the skin can be one of the last symptoms to go away.
ACTIVE INGREDIENT:

Salicylic acid 3%
Purpose:   For the relief of Psoriasis and seborrheic dermatitis
INACTIVE INGREDIENTS:
aloe barbadensis (aloe vera) leaf juice*, cetearyl alcohol, urea, isopropyl palmitate, polysorbate 60, beeswax, dimethicone, allantoin, zinc PCA, avena sativa (oat) kernel flour, sodium PCA, sodium hyaluronate, panthenol (pro-vitamin B5), butyrospermum parkii (shea butter), cetyl alcohol, tocopheryl (vitamin E) acetate, sodium phytate, sodium hydroxide, phenoxyethanol, ethylhexylglycerin.
Fast Itch Relief
One of the primary struggles of Psoriasis is the endless itching from dry, flaky skin. TriDerma Psoriasis Control cream works quickly to ease itchiness and clear away dead skin cells. Its formula is made of nature's bounty of botanicals and natural materials such as beeswax, oat kernel flour, and shea butter to reduce the recurrence of itchy patches on the skin.
Plus, TriDerma's botanical blend is safe and gentle enough to use on the body and face, making it a go-to for those who suffer from Psoriasis in multiple places. Their prime benefit is that they provide fast itch relief without relying on hyper-strong additives such as cortisone or steroids.
For this reason, their product is suitable for different types of Psoriasis, as well as people young and old.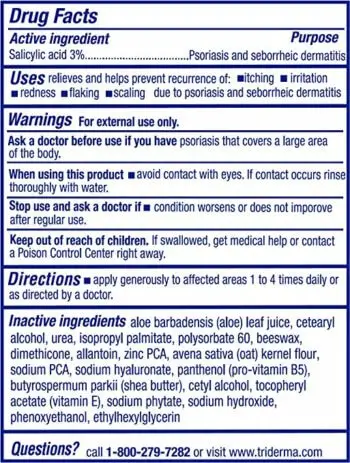 Reduces Redness and Flare-ups
Another concern that individuals with Psoriasis have is redness and those rough, scaly patches of skin that can show up on the elbows, knees, scalp, and anywhere else for that matter. When these flare up, it can be a painful experience and not all Psoriasis creams can ease the discomfort.
TriDerma once again pulls through with botanicals, not a mixture of sketchy chemicals. For instance, they use organic aloe vera leaf juice and provitamin B5 to combat redness and ease any accompanying swelling.
In fact, TriDerma uses an AP4® Aloe Vera Complex that contains over 200 natural healing agents that fight swelling and ease the pain while killing bad bacteria. It includes virgin organic aloe, urea, zinc PCA, and vitamins A and D. Moreover, vitamins B and E are naturally anti-inflammatory, so they're another great component that can tone down redness and swelling.
The cream uses 3% Salicylic Acid, as prescribed by top dermatologists to relieve dead skin cell buildup without being too harsh. With routine use, this face and body cream can help skin look smoother while evening out skin tone.
Non-Greasy and Free of Harmful Additives
This Psoriasis cream goes on smoothly without any extra grease, so it won't leave the skin feeling sticky or oily.
The aloe vera extract and oat protein provide natural moisture that seeps into dry, flaky skin patches, helping to get rid of excess skin cells.
The formula works on the scalp as well and won't leave hair feeling greasy.
Sticking to its commitment to being drug-free, TriDerma Psoriasis Cream doesn't contain any steroids, phthalates, parabens, petrolatum, mineral oil, or cortisone. It is also fragrance-free, so it's compatible with most people who are allergic to scented creams and lotions.
Individuals can purchase this cream on the TriDerma website, or they can browse on Amazon for a 4.2-ounce tube.
The cream comes in a convenient tube that is suitable for travel or on the go, and the price is comparable to competitors.
Best of all, it's an over-the-counter formula that consumers can find at their local drugstores, such as Walgreens, Rite Aid, or CVS. The cream has a green tint to help with the redness. It can be used up to four times a day depending on the severity of the Psoriasis.
Customer Satisfaction
The majority of customers report that the TriDerma Psoriasis Cream is a great alternative to topical steroids. They notice a visible reduction in swelling and redness, and their itching decreases dramatically.
Many consumers appreciate that they can use TriDerma Psoriasis Control on its own or along with an over-the-counter moisturizer without experiencing any harmful side effects. The price is much better than what they would purchase from a dermatologist, and the TriDerma formula contains doctor-approved ingredients anyway.
This is definitely a viable option for those looking for an affordable Psoriasis cream that is steroid and fragrance-free.