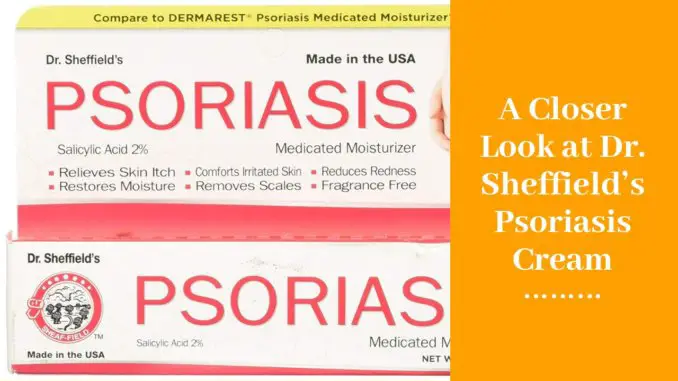 Dr. Sheffield's Psoriasis Cream
Before individuals with Psoriasis shell out big bucks to buy dermatologist-recommended products, they might want to check out their over-the-counter options. It turns out that there are plenty of items to choose from, and many of them can rival those pricey products that are found in doctors' offices.
One such choice is . It contains the dermatologist-approved amount of 2% Salicylic Acid, and there are other ingredients in the formula that can help to clear away the scales, patches, and redness that comes with Psoriasis.
Soothes Redness and Flaking with Salicylic Acid
This cream's active ingredient is 2% Salicylic Acid, which works to slough off dead skin cells to blast away redness and reveal the healthier skin underneath.
The majority of Psoriasis products on the market use Salicylic Acid, and it is often prescribed by dermatologists and those who treat skin disorders. Yet rather than spending hundreds of dollars on doctor-prescribed formulas that contain Salicylic Acid, there are over-the-counter options that are a fraction of the price.
One of these is Dr. Sheffield's Psoriasis cream, which, along with Salicylic Acid, contains various other ingredients that are found in dermatologist-recommended products.
Furthermore, when used properly, a skin moisturizer with Salicylic Acid can bring more hydration and smoothness to the skin. This is particularly great for those who suffer from Psoriasis and its patches of dry, flaky, scaly skin. The formula can get the dead skin cells out of the way to reveal a healthier surface and more even skin tone.
Boost Skin Health with Dr. Sheffield's Psoriasis Cream
This product relies on some natural botanicals and other inactive ingredients to help soothe irritation and inflammation. Among those components is algae extract, which has made its way into quite a few beauty items in recent years. Algae provides natural hydration and brings moisture to the skin, something that is severely lacking in people with Psoriasis.
Algae is also an antioxidant, so it can protect the skin cells from free radicals and environmental damage.
Other beneficial botanical ingredients in Dr. Sheffield's formula include camellia oleifera leaf extract or tea oil camellia. The seeds of this plant produce tea seed oil, a source of oleic acid. Oleic acid contains monounsaturated fatty acids and is a cosmetic astringent, so it creates a protective layer on the epidermis and protects the skin from outside factors such as pollution.
This Psoriasis cream also contains citric acid, which is used in some skin treatments to repair uneven skin tone. This is an issue that a lot of people with Psoriasis face, as the skin disorder causes patches of red and flaky skin on various parts of the body.
Citric acid is an antioxidant that can help to create smoother, more supple skin, something that would be helpful in treating Psoriasis.
Considerations & Reminders
Dr. Sheffield's Psoriasis cream uses mineral oil, which is sometimes referred to as "paraffin oil." It's a component that is used not only in a range of skincare and beauty products, but also in mechanical engineering, electrical work, and other industries.
Mineral oil used to be all the rage in skin care and beauty routines, but it has since been placed on the back burner as more research comes out about its effects on the body. Mineral oil is made of petroleum and therefore comes in different grades, some of which could contain toxins. This substance may actually do more harm than good, clogging the pores and seeping contaminants into the skin.
Continuing studies show that mineral oil doesn't really do anything for the skin, so most modern beauty products avoid it.
This is the major consideration to keep in mind before purchasing Dr. Sheffield's Psoriasis lotion. It contains some other great ingredients, and it's an affordable option, but its use of mineral oil and petroleum-containing ingredients is something to consider.
Other precautions include its use of methylparaben, which is surrounded by controversy. This substance is used to preserve food and gets quickly absorbed by the skin upon contact. Some studies suggest that skin treated with methylparaben is more at risk for sun damage from UV rays.
Keep these considerations in mind when looking for a Psoriasis cream. Fortunately, there are many on the market, but it just might take some time to find the best fit.